Window Treatments Guide
Stop by McDonald Carpet One Floor & Home in Boulder for beautiful window treatment products! We carry a wide array of great window fashions available in different materials, designs, styles and more. As part of our selection, we offer simple yet tasteful designs that make using our products easy and safe for both children and pets. Our home design professionals will walk you through our showroom and provide you with a quick overview of each product to ensure you chose the right window fashion for your home.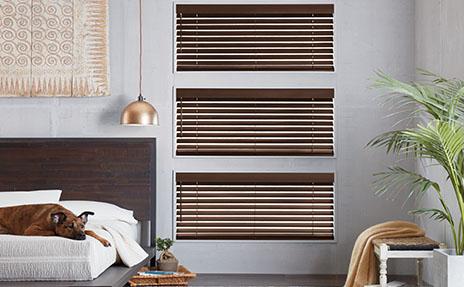 Benefits of Window Treatments
As flooring professionals, we love window treatments because they help protect your flooring. Most window treatments help to protect your home from the sun's harmful UV rays which cause fading. When flooring or furniture is exposed to sunlight for most of the day, it can become damaged by the UV rays and will fade or start cracking over time. Our designers can help you find the right treatment for your home to prevent this fading.
Light control is made incredibly simple with motorized systems, where you can set a schedule for your treatments to adjust at certain times of the day. With light control, you also have privacy control. By closing the curtains or draperies you can cover the windows fully and stop others from viewing the inside the rooms.
Window treatments feature insulating materials that help with your home's energy efficiency. During the summer, the covering on your windows prevents the heat from entering inside. In the same way, during winter, the heat from inside the room does not escape outside letting you enjoy the warmth inside. So you will be using less of the heating and cooling devices, ultimately leading to energy savings and energy efficiency.
Types of Window Treatments
There are two types of window treatment options, soft and hard. Hardwood window treatments include shutters and blinds, where soft window treatments include shades and drapes. Blinds are categorized as hard window treatments and are made of wood, metal, or plastic, blinds are a great option for filtering light. Metal blinds are particularly easy to clean. For those preferring full darkness or extreme privacy, shades are a smart alternative. There are honeycomb shades, roman shades, and cellular shades.
Window Treatment Brands
Hunter Douglas

Among our line of specialty window fashions is

Hunter Douglas. They continue to be an industry

leader for over 30 years, window treatments range

from sheers, shades, wooden options, blinds, and

shutters no matter what size or shape your windows are!