Linoleum vs. Vinyl Flooring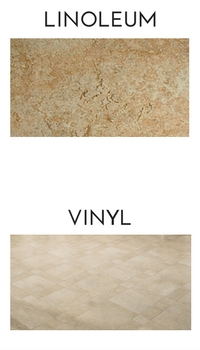 McDonald Carpet One carries resilient flooring options such as linoleum flooring. Linoleum looks and functions similarly to vinyl flooring, but there are certain differences in construction and durability. Which is best for your next home or commercial project? Let us help you choose between linoleum and vinyl!
Construction: Vinyl flooring is made completely from synthetic materials such as plastic. Linoleum is made from natural materials including linseed oil, wood floor, and powdered cork. As a result, linoleum flooring is friendlier to the environment.
Appearance: Vinyl and linoleum offer similar looks, but vinyl is noted for its ability to replicate the looks of hardwood, stone, and tile. Linoleum, however, has more vibrant color options. Plus, linoleum has a consistent color through its backing, so it will not show wear as much as vinyl.
Durability: Both vinyl and linoleum are waterproof and resistant to spills and stains. Also, both floors have strong top layers to resist scratches and scruffs. But, linoleum flooring is more durable than vinyl since it is strong and solid like hardwood and tile.
Maintenance: Vinyl is easier to clean than linoleum, but both require less maintenance than carpet, hardwood, and laminate. For linoleum flooring, routine sweeping or vacuuming is necessary, and mopping with water and a natural detergent is sometimes necessary. Linoleum floors sometimes need to be resealed to protect against liquids and stains.
Be sure to visit our Boulder, CO store to take a look at vinyl and linoleum first-hand!