Hardwood Installation Services
If you are looking for new hardwood flooring, we have you and your home covered at McDonald Carpet One Floor & Home in Boulder. Our quality selection of hardwood flooring is backed by our installation services. Our professionals will sit down with you to help you find the right hardwood floor and prepare you for your upcoming installation. You can come to us for help with your next flooring project from start to finish.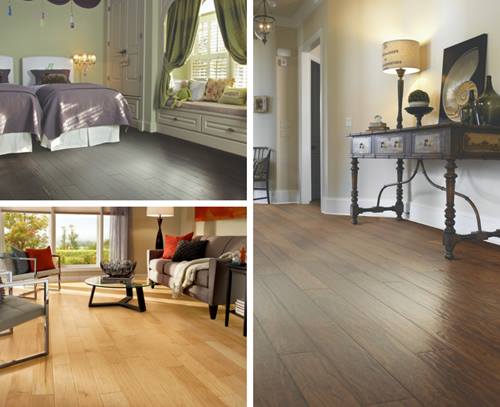 How to Install Hardwood Floors
Hardwood flooring can be time consuming and tricky to install if you do not have the experience, which is why we always recommend hiring professional installers. The most important steps in installing hardwood flooring include a free in-home measure and a moisture test. Moisture testing is an important step before installation to ensure your subfloors are suited to handle hardwood flooring. A damp subfloor can cause damage to your hardwood over time if not properly tested. They also prepare your subfloor and made sure it is flat, clean, dry and free of imperfections. With hardwood flooring, it is important to make sure to leave a gap between the planks and the walls to allow the hardwood to naturally expand. There should also be no gaps between the planks to ensure a seamless surface.
They type of hardwood flooring you choose will determine the type of installation you need. Solid hardwood requires being nailed or glued down to the subfloor so there is no shifting. Engineered hardwood comes in floating floors, and can lock together without needing any adhesives.
Where Can Hardwood Be Installed?
Solid hardwood is beautiful and strong, but does need to be installed in dry, cool environments, so it should be installed in places with low traffic like bedrooms, living rooms, and dining rooms. Engineered hardwood's layered construction provides more stability than solid wood, and allows it to handle areas with a lot of traffic like kitchens and hallways. They can even be installed in basements with moisture control.
Be sure to avoid installing hardwood in bathrooms and laundry rooms due to excessive moisture and humidity which can damage wood.
Living Rooms

Engineered hardwood flooring is the best choice for spaces in your home like living rooms. If you use your living room a lot for family time or to entertain guests, then you'll want something durable and beautiful to look at. Impress your guests with quality hardwood flooring that can also withstand traffic and is not sensitive to accidental spills.

Bedrooms

Solid hardwood flooring will transform your bedroom into a personal retreat. Solid hardwood flooring features unmatched characteristics no other flooring can replicate. Add elegance and warmth to your space with a warmer colored wood. Hardwood flooring is a great choice for bedrooms because of how lightly they are used.